President Biden Honors Brigham Researcher Gregory Petsko with National Medal of Science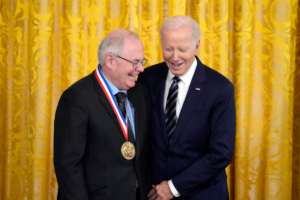 On Oct. 24, 2023 President Biden awarded the National Medal of Science to Gregory A. Petsko, D. Phil, during an awards ceremony in the East Room of The White House. The ceremony honored Americans who have made exemplary achievements in science, technology, and innovation to strengthen our nation's well-being.
Petsko, who joined BWH in 2019, is a professor of Neurology in the Ann Romney Center for Neurologic Diseases at Brigham and Women's Hospital and an adjunct professor of Biomedical Engineering at Cornell University. He has been elected to the National Academy of Sciences, the National Academy of Medicine, the American Academy of Arts and Sciences, and the American Philosophical Society. His current work aims to develop treatments for the major neurodegenerative diseases, including ALS (Lou Gehrig's), Alzheimer's, and Parkinson's. His public lectures on brain health have attracted a wide audience (his TED talk on the coming neurologic epidemic has been viewed over a million times).
The National Medal of Science is the nation's highest scientific honor. Established by Congress in 1959 and administered by the U.S. National Science Foundation, it is bestowed by the President of the United States on individuals deserving of special recognition for their outstanding contributions in biology, computer sciences, education sciences, engineering, geosciences, mathematical and physical sciences, and social, behavioral, and economic sciences, in service to the Nation.
Source: Brighan Clinical & Science News